A Lilly-funded Project to Spark Thriving Cultures
Tacoma-Seattle Area Cohort

As a thriving congregation, we seek to . . .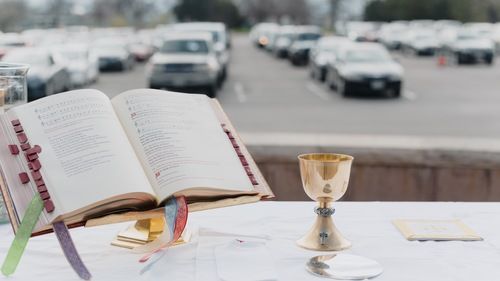 GOAL 1
Communicate your Uniqueness
Clarify your identity and strengths
Define your purpose and priorities
Align activities with what matters
Change your culture
GOAL 2
Connect people with God
Form faith @ church
Form faith @ home
Form faith online
Form faith on the go
GOAL 3
Connect people with each other
Share life and faith stories
Deepen intergenerational relationships
Discover and celebrate people's callings
Engage in difficult conversations
GOAL 4
Connect congregation with community
Welcome and befriend our neighbors
Explore strategic partnerships
Increase our visibility in the community
Remove barriers that divide us
jladoux@vibrantfaith.org | Calendly.com/jladoux | https://uso2web.zoom.us/j/5412529630
COHORT AGENDA (Tuesday, January 17 @ 7:00pm) & NEXT STEPS
MEETNG AGENDA (January 17 @ 7:00pm)
Check-in: What helps you/your team move forward every month?
Check-in: Is your WHAT and you WHY crystal clear?
What decision do you need to make? What resources do you need?
Who will you ask for help to support your next steps?
NEXT FAITHFUL STEP (S) BY END OF JANUARY
Write 3-5 sentence paragraph to describe each experiment
List 2-3 faithful next steps to take by the end of January.
Identify who will spearhead each experiment.
Identify resources needed to support upcoming steps.
Possible Experiments to Pilot January - March 2022
Use Event Planning Form to plan events.
View Google Analytics to assess web traffic.
Begin creating ministry descriptions.
Have leaders discuss The Innovative Church.
Review, rethink, and reinvent your structure.
Use How Has God SHAPED you with newcomers.
Use WATER form at meetings with leaders.
Use Storyboard to capture people's stories.
Post questions on Facebook or Instagram.
Start sending 50 thank you cards every month.
Introduce families to meal time prayers.
Read lectionary passage as a family.
Invite households to keep a gratitude journal.
Encourage members to install Bible app.
Create a twice/month Youtube Bible discussion.
Interview community leaders.
Host meetings/events in the community.
Visit local congregations online/onsite.
Host a walking/biking community prayer tours.
Invite city planner to a State of the City event.
Innovations for Mt. Cross
"What does a thriving congregation look like?"
- How might a guest describe a thriving congregation?
THRIVING COMMUNITIES . . .
Exhibit depth and meaning in spiritual, social engagement.
Create authentic, caring communities without becoming insular or exclusive.
Have clarity of purpose and transparency as to its identity.
Involve people in mission based on one's passion, interest, and calling.
View acts of service as invitations rather than obligations.
Recognize and celebrate people's spiritual gifts (inventory?).
Have reverence for sacred story and serve as holy spaces, set apart,
Teach spiritual disciplines and demonstrates core practices of the faith.
Engage people in small groups that reflect multiple affinities.
Views the church as empowerment for, not consumption of, ministry.
Help people articulate their faith and invite people into faith-related conversations.
View God as being active in the world and seek to align their intentions with God's dreams for the world.
Help people share their stories, give voice to their ideas, and draws out people's wisdom.
Have an inclusive and abundant mindset that's willing to take risks for the good of the world.
Questions to Consider about Thriving
Where are the current disciple-forming strengths in your congregation?
Where do you see authentic, deep relationships being built in your congregation?
How often does your congregation celebrate? What do they celebrate?
How well does your congregation manage conflict?
When and where do members discuss their personal faith lives?
What is your church known for in the community?
In what ways is your church is networked with other local faith communities?
How does your congregation express its concern for those who live on the margins of society?
In what ways does your church make itself more visible to people in your community?
Describe how your church builds partnerships to address needs in your neighborhood.
WE RELATE
We use every event as an opportunity to deepen relationships.
Our members/ministry partners initiate connecting/caring for others rather than relying on the pastor.
Use every communication platform as a vehicle for sharing stories.
Frequently share stories and practices that help people following Jesus.
Equip leaders to serve as spiritual elders who discern God's intentions.
Equip people how to discuss difficult issues and name unhelpful behaviors.
Give people skills and tools to build friendships with residents and community leaders.
Help people to identify ways they can connect with God (up), with each other (in), and the world (out) in their daily lives.
Challenge members/ministry partners to welcome, befriend, and create wow experiences for guests.
WE PRACTICE
We make prayer is more than a "bookend" experience. It's a mindset and way of life.
Our corporate prayers are relevant, speak to all ages, and address current issues.
We focus on God's abundance, we exude joy, we express gratitude, and wee celebrate often.
We don't just talk about spiritual practices; we demonstrate how to use them in their lives.
We suggest paths and next steps for people to grow in faith.
Household practices that are easily woven into people's lives are highlighted.
WE SERVE and CONNECT WITH OUR COMMUNITY
Recognize and report on changes in the community.
Become known for a local service project or community event.
Have a plan for being more visible in the community.
Are aware of their member's engagement in the community.
Have created a contact list/email list of community leaders.
Spend time exploring ways they might collaborate with other organizations.
Have a visually engaging, outreach-oriented church website.
May have a tagline that is memorable and meaningful to local residents.
List your progress, learnings & next steps
REVIEW | Our Celebrations
Form a Cohesive Team
Select and orient team members; read information about Thriving Congregations.
Decide where to keep TC documents (Google Drive?); Review and customize the Google doc "map."
Introduce TC members to the congregation; share purpose of the team; take a team picture.
Read and discuss Angela Gorrell's book, Always On; watch Angela's video,; list insights & ideas.
Define a thriving Congregation/Culture
List of words and phrases that describe what a thriving congregation/culture looks like.
Review what it means to thrive based on the Thriving Congregations Powerpoint.
List what your congregation is currently doing to help people experience a vibrant faith.
Have leaders respond to survey; review results as a team; share learnings with your leaders.
Create 1-2 paragraphs about what it means to thrive as a congregation. Share with leaders.
Ask church leaders where they seek the congregation thriving based on team's description.
Learnings from readings, videos, webinars (we'll discuss this at the April meeting)
Systems need to be put in place to ensure long-term sustainability.
Every congregation has strengths; find ways to build upon them.
To survive and thrive, congregations need to have onsite and online campuses.
Learnings from Team Conversations, Feedback about Church, and the Online Survey
NEXT STEPS | Read, Watch & Discuss
NEXT STEPS | Observations & Experiments
Learn about Leadership Practices and Approaches and Skills for Deepening Relationships
View and discuss leadership Learning Modules.
View and discuss Rich Relationships Learning Modules.
Describe how rich relationships, spiritual practices, and innovation support a thriving congregation.
Describe what is "present," "missing," and "emerging" in your ministry setting.
Possible Observations Exercises
Invite paid and elected leaders to evaluate their website, Facebook page, and e-newsletter.
Ask three members, "What drew you to this church?" and "What would cause you to leave?"
List how often members invited to try on a spiritual practice.
List the number of times a member's faith story is shared among church members.
Ask leaders when was the last time they invited people to join an onsite or online church event
Ask leaders to call three people from church and share one new thing they learned about them.
Learn about Innovation Approaches and Stanford Innovation Design
Learn about the library of spiritual practices with TC Team members.
Learn about Stanford design process with TC Team members
Use the Stanford design model focused on a specific spiritual practice.
Use the Stanford design model focused on a 2nd new spiritual practiced and a 3rd new spiritual practice.
Possible Short-term Experiments
Select one event and rethink and reimagine ways to make it a WOW experience.
Invite leaders and members to participate in another church's online event/group or conversation.
Create a four-week video series on what members say it means to thrive spiritually.
Sponsor a 30-day challenge to pray for the people, programs and organizations in the community.
Invite the congregation to read a book together for one month.
Invite elected leaders to create a plan to grow generosity based on "Ask, Thank, Tell."
Join a Monthly Book Discussion!
Participants share "10 Takeaways from a featured book" the 3rd Wednesday of every Month (12:00 - 12:50pm Central)
1. Critical and theological reflection on new media development and engagement is essential.
2. Leaders of learning communities need to feel equipped to guide conversation about new media.
3. New media is designed so you will desire to be always on and connected to a device.
4. New media encourages you to become a brand (this is VERY prevalent in teens and young adults).
5. Christian communities examine Jesus' circumstances and the conditions he sought to create.
6. The work of faithful living in a new media milieu is about practicing discernment.
7. Christian communities teach members to reflect, discern, and ask powerful questions.
8. The new landscape demands communities who welcome questions to which they don't have the answers.
9. Experiment with embedding rhythms of rest, advocacy, compassion, truth-telling into your life.
10. How might Christian communities cultivate kingdom-oriented desires, convictions, and habits
through rituals and routines informed by Christian visions of flourishing life?
The Innovative Church (April 21)
READINGS TO DOWNLOAD AND DISCUSS
Join the Thriving Congregations Catalyst Group
A place to learn, connect and crowdsource