A Siebert-Funded Project to Spark Lay Leadership Capacities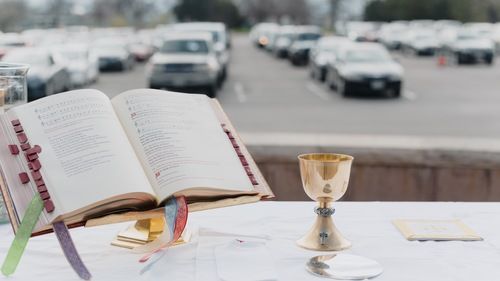 Invite & Invest in Leaders
Nominating & Onboarding Best Practices
Onboarding for Chairs/Treasurer/Secretary
Lay Leadership Academy - New/MC/Cohorts
FCC/Book Discussions - A Failure of Nerve


Learn to Listen & Discern
Learn to Listen/8 listening exercises
Importance of being spiritual leaders
Learn to Dream
Measure What Matters
Do What Matters
Connect Leaders to Members & Ministry
Connect with God
Connect with Church Members
Connect with our Neighbors/Antiracism
Connect Activities Culture
Better Meetings
Building Communications
Better Evaluations
Better Monitoring
Might there be a better way?
More intentionally partner with staff
Deepen Connections
MEETING AGENDA (January 26 - 7-8:00pm)
NEXT STEPS FOR "COHORT" CONGREGATIONS
Share: What's your vision for your congregation?
Review: Survey findings (ways to interpret).
Next steps: Confirm 90-day timelines for churches.
Highlight: Additional resources to support your efforts.
Schedule: List next steps; build agenda for next meeting.
List current faith-forming activities offered by the church.
Share Thriving Congregations survey link (https://www.surveymonkey.com/r/ThrivingCongregations)
Interpret survey feedback received from church leaders.
Describe your vision of what it means to be a thriving church.
Email: jladoux@vibrantfaith.org
Call or Text: 612.865.0628
Schedule a Coaching Session https://calendly.com/jladoux
Call (via Zoom): 408.638.0968 (ID: 541 252 9630)
Zoom online: https://us02web.zoom.us/j/5412529630
What's your image of a thriving congregation?
Questions for Cohort Teams to Consider When Describing a Thriving Congregation
Where are the current disciple-forming strengths in your congregation?
Where do you see authentic, deep relationships being built in your congregation?
How often does your congregation celebrate? What do they celebrate?
How well does your congregation manage conflict?
When and where do members about about their personal faith lives?
What is your church known for in the community?
In what ways is your church is networked with other local faith communities?
How does your congregation express its concern for those who live on the margins of society?
In what ways does your church make itself more visible to people in your community?
Describe how your church builds partnerships to address needs in your neighborhood.
Exhibit depth and meaning in spiritual, social engagement.
is an authentic, caring community (w/o becoming insular or exclusive).
Have clarity of purpose and transparency as to its identity.
Involve people in mission based on one's passion, interest, and calling.
Help people view acts of service as an invitation rather than an obligation.
Are aware of and celebrate the range of spiritual gifts among members (inventory?).
Serve as holy spaces apart, not just one among many checklist items.
Have reverence for sacred story.
Teaches spiritual disciplines and demonstrates core practices of the faith.
Engages people in small groups that reflect multiple affinities.
Views the church as empowerment for, not consumption of, ministry.
Helps people articulate their faith and invite people into faith-related conversations.
Views God as being active in the world.
Seeks to align their intentions with God's dreams for the world.
Helps people share their stories, give voice to their ideas, and draws out the wisdom and strengths of its people.
Do not have a "us VS them" mindset, nor do they have a scarcity mentality.
Additional suggestions?


New insights in thriving?
RELATIONSHIPS
Every event becomes an opportunity to deepen relationships.
Members/ministry partners initiate connecting/caring for others.
Every communication platform is a vehicle for sharing stories.
Stories and practices shared help people following Jesus.
Leaders see themselves as spiritual elder who discern God's intentions.
People are equipped to discuss difficult issue; name unhelpful conduct.
People build friendships with residents and community leaders.
FAITH PRACTICES
Prayer is more than a "bookend" experience.
Thriving churches seem to express gratitude and celebrate often.
Churches demonstrate/share about individual and group faith practices.
Thriving churches meet people where they're at; discuss next steps.
Paths for growing faith are often fewer and more focused.
Household practices that are easily woven into people's lives are highlighted.
COMMUNITY VISIBILITY & ENGAGEMENT
Recognize and report on changes in the community.
Become known for a local service project or community event.
Have a plan for being more visible in the community.
Are aware of their member's engagement in the community.
Have created a contact list/email list of community leaders.
Spend time exploring ways they might collaborate with other organizations.
Have a visually engaging, outreach-oriented church website.
May have a tagline that is memorable and meaningful to local residents.
1 | Form a team; begin learning as a team
Add assigned coach to communication lists; send helpful church documents.
Introduce the Google doc "map;" customize as needed; confirm meeting dates.
Determine where visioning documents will be stored; who has access to them.
Decide how the team will be introduced to members; set a commissioning date.
Take a team picture (to be used at various times throughout the project).
Read Angela's book, Always On; watch Angela's video, discuss with TC team.
2 | Define a thriving congregational culture
Brainstorm a list of words and phrases that describe what a thriving congregational culture looks like.
Create first draft of what it means to thrive based on the Thriving Congregations Powerpoint.
List what your congregation is currrently doing to help people experience a vibrant faith.
Have leaders respond to survey; review results as a team; share learnings with your leaders.
Create a working definition of what it means to thrive as a congregation. Share with paid and elected leaders.
Review responses about thriving shared by other participating TC congregations.
1 | Learn as a Team about Agile Leadership & Innovation
2 | Implement Stanford Design Process Experiments
View and discuss leadership Learning Modules.
View and discuss Rich Relationships Learning Modules.
Describe how rich relationships, spiritual practices, and innovation support a thriving congregation.
Describe what is "present," "missing," and "emerging" in your ministry setting.
Learn about the library of spiritual practices with TC Team members.
Learn about Stanford design process with TC Team members
Use the Stanford design model focused on a specific spiritual practice.
Use the Stanford design model focused on a 2nd new spiritual practiced and a 3rd new spiritual practice.
Always On | Rev. Shannyn Fuerst
CHAPTER 1 | Interested ConversationFocus:
Interested conversation: Interested in what God is up to in this new media landscape and interested in reasons why new media has the possibilities and brokenness.
New media holds great possibility for living into the kingdom of God.
If you want to be attentive to what is impacting people's lives, critical and theological reflection on new media development and engagement is essential.
New media has both glorious possibilities and profound brokenness.
Benefit: New media affords us connection, even with strangers, across the miles, or from years past.
Brokenness: Social media is a source of pain, anxiety, frustration, and jealousy (There are a number of brain studies done on the effects of social media)
Social media's exposure of current events has surfaced the longtime realities in new ways that are forcing everyone to feel them and confront them (in varied ways)...ie) think BLM, equality, politics, etc.
Media can contribute to diminished humanness--separation between the person and their words or actions. Rapidly changing media can provoke fear.
Fruitless "conversations":

Related to the feeling that correspond to the four characteristic unreflective movements: looking backward (homesick monologue), leaping forward (misplaced hope), sitting stagnant (anxious inaction), wandering aimlessly (oblivious silence).
These movements develop into a variety of habits and malformed conviction
Each is driven by something true: 1) relationship to new media often is broken 2)
new media does offer exciting new possibilities 3) new media does present new challenges 4) leaders of learning communities need to feel equipped to guide conversation about new media

These four movements neglect to engage the fear that comes with new technology
We need to find a way to attend to the fear and address the most important matters: the possibilities and brokenness
Interested conversation can be facilitated by people who have a lot or little experience. It's about being open to the discernment.

CHAPTER 2 | Traversing the New Media TerrainFocus:
New media terrain and insight into why new media is connected to Christian faith and is meaningful to people and Christian communities.
The connection between faith and new media is not always immediately obvious for some communities.
Dismissing new media and people's engagement with it as something unnecessary seems justifiable...
HOWEVER, when people get online (and they will), their choices about what to view, share, post, or express emotions about MATTERS.
Social media engagement requires people to constantly and unconsciously answer difficult questions such as:

Whom should I interact with?
When should I speak and when should I listen?
What should I click?

These activities reveal a person's beliefs, values, desires, and judgement.
A person's feelings, habits, disciplines, and activities online and in other forms of communication both reveal and continually shape a person's theology.
This is because theology is embodied, exercised, and practiced. As humans perform theology in their actions and habits, they learn to reflect on it, describe it, shape it, and reform it.
Stepping into new media and talking about the seemingly simple actions in such detail,
will help the community uncover just how meaning-filled these mundane activities are.
Acknowledging that we are a hybrid living of in person and online.
Christian communities are a medium for God's love. Hybrid living allows to participate in mediated conversation when we cannot be physically present. (Hello, COVID)
CHAPTER 3 | Shaping StoriesFocus:
Describes cultural narrative that shape the social contexts that designers and
developers of new media live within.
By describing the narratives, we begin to get a sense of the conditions of the false life
we are all living within.
Communication techniques and priorities of these social contexts for the structure--the
practices and values--of new media.
New media not only deepens these narratives but also contributes to them.
New media--it's development and people's use of it--is shaped by a dominant cultural
narrative that motivates many aspects of American culture. The story is not often talked
about, yet it is widely lived.
Main story: The story goes something like this: Be true to yourself. You do you. Do what
you want, whatever feels right to you. Be happy.
The story's predominant message is that your life's meaning and self-fulfillment are
discovered through, and therefore dependent on, your ability to authentically express yourself--to find your unique way of being human that does not imitate anyone else. If you are unable to do this, you will miss the point of your life.
Subplot story: Daily being told that the proof of whether you are living this dominant cultural story well lies in your ability to make money and consume. This underlying current is often a battle between our culture and our theology.
New media is designed so you will desire to be always on and connected to a device.
New media wants to not only get your attention but hold it (likes, badges, dopamine hits, etc)
New media makes money off of your attention
New media has not only adopted the convictions of our culture's main story and subplot;
it has added malformed convictions to the story. New media associates authentic self-expression and pursuit of your desires online with accumulating attention and accruing social capital. You become a brand (this is VERY prevalent in teens and young adults).
CHAPTER 4 | Online JesusFocus:
Imagines Jesus' life and ministry as a methodology for articulating Christian visions of the true life. (counter but not dismissive to the Main/Subplot story above).
Jesus' ministry is like a pair of glasses we wear: communities reflect on the accounts of Jesus' life and ministry to discern Christian norms.
Jesus' life and ministry help nurture our imaginations to see the glorious possibilities of human relationships.
As a Christian community examines Jesus' circumstances and the conditions he sought to create--which were material, social, political, and economic--and considers the ways he identified himself, used technology, interacted with other people and built his social network, and navigated social and power structures, the community discovered guiding norms.
Luke 4 & 7--how a person who is formed in the image of God would act and feel when using new media, and what kinds of new media circumstances Jesus would seek to create.

Seeing & Relating to God; Seeing & Relating to Self; Seeing & Relating to Others

Based on Luke's description, it's easy to imagine that online Jesus would seek to cultivate conditions in the new media landscape that support people who are poor, imprisoned, and oppressed.
Jesus would also challenge the ways new media design and use contributes to various forms of inequality, injustice, and hardship in people's lives.
The cross was a technology that was designed to subject people to indignity, humiliation, and shame. It was a penalty for serious crimes committed against the state, serving as a religious-political punishment, with the emphasis falling on the political side.
Jesus' death involved suffering, surrender, and love rather than redemptive violence. The cross breaks the cycle of violence. (Think about that--if that was the technology of the day that broke the cycle of violence...how do we break the cycle of violence with the technology we have today?)
CHAPTER 5 | The ConvergenceFocus:
Methods for practicing discernment about new media.
So often we post or reply with the intent to tell someone why they are wrong, often do not invite dialogue, often is not kind, and is with the intent to try and change a person's mind...to make someone else feel as small as we were made to feel. (Clearly this works...or not so much!)
The work of faithful living in a new media milieu is about practicing discernment.
For Christian visions of true life to make a difference, conversation requires interest in hybrid faithful living.
Rather than rely on human wisdom, God's grace helps us know what to do and strengthens us.
Hybrid faithful living demands receptivity to God's grace and the Spirit. It requires commitment to regularly practicing discernment and dedication to nurturing a hybrid, healing community.
Christian communities need to practice discernment in order to advocate for new media to be designed for flourishing, to make critical decisions about new media, and to theologically reflect on community members' new media experiences.
The profound brokenness of new media is evident in how people spend time using new media--namely in passive, un-reflective, and negative ways. This flattens the use of new media, which contributes to both diminishing the humanness of others and commodifying, weakening, or otherwise destroying relationships. This includes:

Envy; social comparison; impression management; mediated hostility; harassment; cyberbullying
Empathy burnout; always on; mental distress; transparency problems.

Discernment helps with detecting to what degree and in what ways people's use of new media is being governed by malformed visions of the good life vs being oriented by Christian visions of true life.
While Christians have limited control over the new media design, they have more control over the kinds of media they personally use, how they use media, and why.
We can be encouraged to think about what we are trying to accomplish (the outcome) and which devices or social media will help accomplish that goal.
Questioning as a quest: encourage community member to reflect and discern requires facilitators who ask powerful questions---questions that are curious, compelling, and capacious. Jesus often asked these: Matt 6:27, Mark 8:36, Luke 9:20, Luke 10:36
Jesus was genuinely interested in what others believed and how they perceived the world.
The new landscape demands communities who welcome questions to which they don't have the answers.
The answers for how to live and what to do (esp. Regarding new media) are neither straightforward nor easily found. To do this , discussing feelings is vital and storytelling becomes a regular practice.
CHAPTER 6 | Glorious PossibilitiesFocus:
Describes ways to develop hybrid Christian practices and design a rule for life in
a new media landscape.
Hybrid faithful living encompasses a true life of right righteousness, peace, and joy--online and in person.
Hybrid faithful living necessitates both practicing discernment and nurturing a hybrid healing community.
Christian communities shaped by the dualistic approach have mission statements, staff
job descriptions, activities, worship services, and programs that are imagined in narrow terms (relating to in-person interactions only) and performed in physical spaces (usually in the walls of a single building).
By contrast, hybrid healing communities aim to join in Jesus' ministry of holistic healing and conduct ministry in both physical and digital spaces, during in-person and mediated communication, and through how they use both old forms of media and new media. These communities are concerned with the pursuit and embodiment of Christian visions of true life no matter where they are or what they are doing in the new media landscape.
Jesus' ministry looked like wanting every human being to belong to a healing community, marked by ever-increasing love, compassions, forgiveness, relief, vision, and freedom.
Nurturing this type of community occurs through dedication to developing hybrid Christian practices and designing a rule for life in a new media landscape.-- one that is cultivating kingdom-oriented desires, convictions, and habits through rituals and routines informed by Christian visions of flourishing life.
In essence, we share in Christ-likeness wherever we are present. This includes: hybrid christian practices, rhythms of rest, mercy, advocacy, compassion, truth-telling, and peace building.
Join the Thriving Congregations Catalyst Group
A place to learn, connect and crowdsource